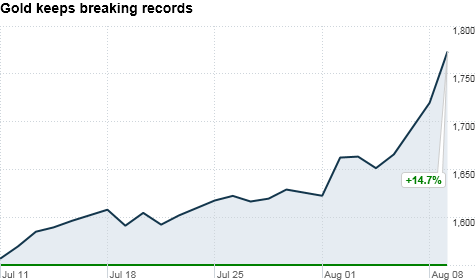 Click on chart to track commodities
NEW YORK (CNNMoney) — Stock-shocked investors are fleeing to gold, pushing the precious metal to new heights.
Gold reached a new intraday high of $1,782.50 per ounce in electronic trading before backing down to $1,746.20. That's an increase of $33, or about 2%, compared to its Monday close. On Monday, gold broke $1,700 for the first time.
The current flight to gold has been by a nasty stock market plunge. On Monday, the Dow Jones industrial average plummeted 624 points, or about 5.5%, and the Nasdaq and S&P 500 dropped nearly 7%. It was the worst day on Wall Street since the 2008 fiscal crisis.
The rise in gold and the plunge in stocks are the result of Standard & Poor's downgrade of U.S. debt on Friday from AAA to AA+. This has undermined faith in the United States and the contagion has spread to markets around the globe.
"Against this backdrop, together with strong Asian gold demand and continued purchasing by central banks, gold continues to demonstrate its attributes as a hedge against credit risk, currency and inflation/deflation risk," wrote Marcus Grubb, managing director of investment at the World Gold Council, in an e-mail to CNNMoney.
Jono Remington-Hobbs, precious metals analyst for Fastmarkets Limited in London, said that gold has been on a 10-year boom. It has recently become more valuable as other safe havens, such as the Swiss franc and Japanese yen, lost their luster.
The key to gold, he said, is that it's a strong asset now, just like it was a strong asset 2,000 years ago.
"An ounce of gold would have bought you a great suit then; it would buy you a great suit now," said Remington-Hobbs.
While the economic malaise has been a boon for gold, which is up 15% over the last month, it has had the opposite effect on oil, whose price has plunged more than 16% over the last month.
But oil rebounded Tuesday after tumbling below the $80-a-barrel mark, rising 26 cents to $81.57 a barrel. Just two weeks ago, oil was flirting with $100 per barrel.
Gold is also still far from its true peak, when adjusted for inflation. The metal hit its real record on Jan. 21, 1980, when it rose to $825.50 an ounce. Adjusted for inflation to 2011 dollars, that translates to an all-time record of $2,261.33 an ounce.
By Aaron Smith August 9, 2011: 9:27 AM ET: CNNMoney
Other Stories
How to Invest in Gold
Invest in Gold
Gold prices will hit $2,500 in the near future
Trade Spot Gold Online
Trade Oil Online
Trade Commodities Online
The Basics of Oil Trading
Oil could reach $300 a Barrel

Most Recent Market News
GLOBAL MARKETS-Investors dump stocks after U.S. downgrade
Wall Street to Brokers: Investors Should buy not Flee
Stocks plunge as Economic Europe Worries Continue